An auction of donated lots will be held at Berkeley Castle on the afternoon of Sunday 16th February 2020 for the benefit of Berkeley Hunt.
As supporters of Berkeley Hunt; whether it be on horseback, on foot or just enjoying the sport, we would be grateful if you could endeavour to offer or secure a lot for the auction.
Big or small, we will be hugely grateful of your contribution.
Please send details of items or promises to berkeleyhuntauction@outlook.com, or speak to Massey or Lorna.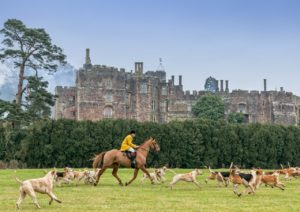 Examples of lots include:
use of a holiday cottage / vehicle / boat / plane
a tour of an interesting venue
a lesson in a skill
an item of craft / food / alcohol
hunting / sporting / celebrity memorabilia
a day hunting
a day shooting
tickets to an event
We look forward to receiving a wide variety of lots for a fantastic auction and hope that you (and your wallet!) will join us for this lovely event.
Thank you for your support